Farmers Market Etiquette
Tips from Farmers Market Pros
Not sure what to expect, what's best to buy, how to speak the lingo, or how to find the best deals at a farmers market? (With so many different vendors and foods to choose from, it's easy to get overwhelmed.)
Here are some tips to help you have a great experience and shop like a farmers market pro:
Have an idea of what fruits or vegetables are in season. Those are the items that are most likely to be at optimal taste and nutrition... and at competitive prices.
You'll find different offerings (and vendors) at different farmers markets. Not all farmers markets are the same. Some are large with a huge variety of goods for sale while others may be much more specialize... focusing primarily on organically produce goods, for example. Luckily, many markets offer phone numbers or web sites so you can learn more about them before you visit.
For the most part, vendors love to talk so don't be shy about asking questions. Vendors often enjoy explaining the efforts they go to in order to grow the most delicious and nutritious fruits and vegetables or produce the best baked goods, ready-to-eat foods or handicrafts possible.

By taking times to better know the vendors and the back stories on what they are offering, you're more likely to be happy with your purchase. And, on future visits, you may want to save time and head straight for those vendors whom you've struck up a relationship with.

One caveat, however. If the vendor seems overwhelmed with customers at the moment, respect their need to cut the conversation short. Perhaps you can swing by later when they'll have more time to talk.
Don't be afraid to try samples. And if no samples are to be seen, it doesn't hurt to request one. After all, tasting food before buying is often one of the big benefits of buying at a farmers market. But don't feel like you're obligated to buy something just because you sampled. Smart vendors know that, in the long run, offering samples generates more sales and income.
Consider leaving your dog at home. It's tempting to bring your pet along for the outing but -- if you do bring him or her -- keep them on a tight leash. And, to be safe, you may want to call ahead since some farmers markets don't allow pets and you certainly would never want to leave your pet in a car that could get hot.
You may (or may not) be able to bargain on the price or quantity... especially on damaged, overripe or less-than-perfect produce. Our favorite time to visit the farmers markets is later in the session -- after much of the crowd has left. That's when some vendors may be more likely to cut the price or sweeten the deal in order to clean out their inventory. (Small vendors may come to market only once a week.) At the same time, respect that these are small business owners and they may not be making much profit to cover their expenditures and time invested in growing, raising, producing and selling their products. (That's why tips may also be appreciated.)
Shop smart, stay safe and have fun! Most vendors now accept debit and credit cards. But, if you plan to make purchases with cash, take small bills and pay close attention that you're charged the correct amount and receive the correct change. And while it's tempting to nibble on the goodies you buy as you're strolling the market, some items may not yet be washed and ready for consumption. Farmers markets are often in summer and usually outdoors so don't forget to drink plenty of liquids and take a wide-brimmed hat or sunscreen. Lastly, make the most of the opportunity to try new foods and make new friends.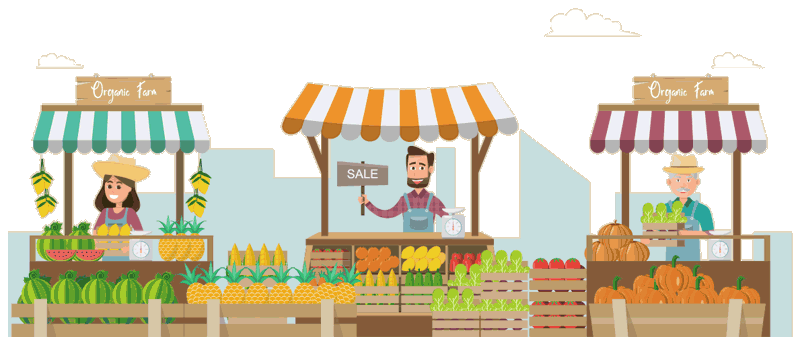 © 2019- FarmToFender.com, Asheville, NC
The information provided here has been compiled by the friendly folks at Asheville Farm and is current to the best of our knowledge. If you have corrections, additions or deletions, please email them to [email protected]. For more details or to confirm the dates, times and locations listed below, please contact those Asheville area farmers markets directly.